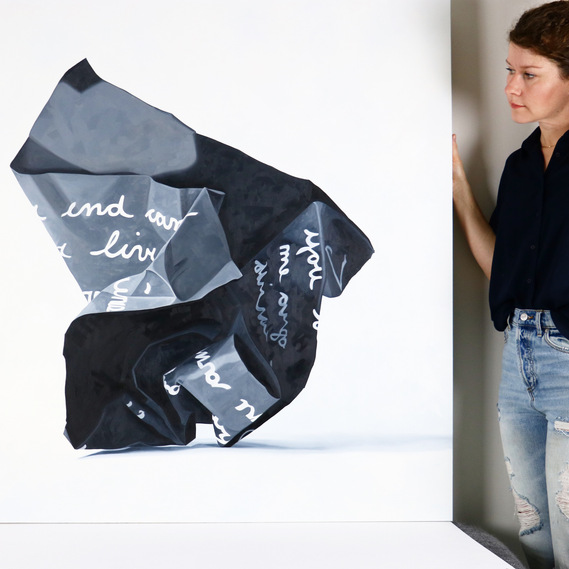 About the Artist
Lindsay Chambers is a Canadian artist currently practicing in Toronto, Ontario. Her work explores the delicacies of the human condition through paintings based on crumpled paper sculptures. All reference material, including any pattern or text, is carefully executed by the hand of the Artist. Chambers' painting objective is always to explore materials, to manipulate paint and maintain the visibility of layers. These works are not as concerned with realism, rather the fluidity of materials and the subtlety of colour.
Chambers holds an Honours BA in Fine Arts and Psychology from the University of Waterloo, a Post‐Graduate Certificate in 3D for Broadcast Animation and Design from Humber College and a Bachelor of Education from the University of Windsor. Her work belongs to collections across Canada, as well as the United States, UK, Dubai, New Zealand, Australia and Japan.
Contact
For more information on Lindsay's work, exhibition or commission opportunities or just to say hello, feel free to get in touch.
Recent Publicity
2023 - Arts Effect, Live Auction fundraiser 2022,2021, 2020, 2019, 2018 - Princess Margaret Dream Home, Gluckstein Design. 2022 - House and Home Magazine, November Edition 2019 – Art Gems Auction, Emerging Artist Category
2018 – Jealous Curator Feature, November 14, 2018
2018 – Princess Margaret Home Lottery, Dream Home, Gluckstein Design
2018 – House and Home Magazine, September Issue, Dream Home Feature

Group Exhibitions
2023, 2020, 2015, 2013, 2010, The Artist Project, Toronto
2022, 2019, 2018, 2016, 2012, 2010, 2007-2003 – Toronto Outdoor Art Fair, Toronto
2019-2010 – Art Interiors, Toronto
2019 - Art Gallery of Hamilton Art Sales and Service Gallery, Hamilton
2018 – Bombay Sapphire Artisan Series Semi-Finalist, Artscape Sandbox, Toronto
2016 – Agape me: A Contemporary Lens on Love & Marriage, Aurora Cultural Centre
2015 – Award of Distinction received at the Queen West Art Crawl, Toronto
2013 - Princess Margaret Cancer Centre Dream Home, Oakville
2009 - Queen West Art Crawl, Trinity Bellwoods Park, Toronto
2009 - Works on Display, Paula White Diamond Gallery, Waterloo
2008 - Friends Exhibition, Royal Birmingham Society of Artists, Birmingham, UK
2008 - Open, Royal Birmingham Society of Artists, Birmingham, UK
2006 - One of a Kind Christmas Show, Toronto,
2006 - Grimsby Public Art Gallery Juried Show, Grimsby
2006 - Expo Art Montreal International Festival, Montreal
2006 - The Robert McLaughlin Gallery's Red Hot Silent Auction
2004 - Works on Display, Arcform, Toronto
2004 – Best in Show Award, Canadian Canvas Competition, Humber College, Toronto
2003 - Collage 2003, Spadina Building, Toronto
2003 - 2003 Graduating Class, University of Waterloo Art Gallery, Waterloo
2002 - From the Seat of Our Pants, KOR, Gallery and Studio, Kitchener
2002 - University of Waterloo Juried Show, Kitchener Public Library, Kitchener

Solo Exhibitions
2020 - Finding the Grey, Collision Gallery, Toronto, Ontario 2019 – Art Gallery of Hamilton Art Sales and Service Gallery, Hamilton, Ontario
2006 - New Works, Rotunda Gallery, Kitchener
2005 - Combinations, Walper Terrace Gallery, Kitchener
2005 - Works on Display, Sunlife Financial, Waterloo
2004 - Filter, Works by Christine MacDonald and Lindsay Chambers, University of Waterloo, Front Gallery, Waterloo
Follow my painting story on Instagram